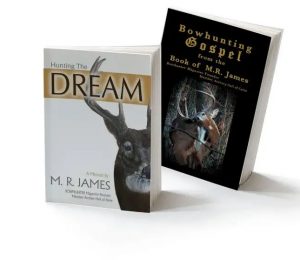 Own the two most recent best-selling books authored by M. R. James, Bowhunter Magazine Founder. Signed paperback copies are now on sale. Get one or both while they're offered in advance of the 2021-2022 deer season and Christmas holidays! They make great gifts, too.

Hunting the Dream is a candid memoir that traces the half-century history of Bowhunter Magazine (1971-2021) from a mere dream to eventual success as the largest, most successful and profitable archery/bowhunting periodical in the sport's long history. It's also a candid look at its founder, from Illinois small town roots to North American big game bowhunting success to his eventual induction into the Archery Hall of Fame (2003). There are hunting stories galore along with encounters and friendships with bowhunting legends.
Originally published in 2013, Hunting the Dream was recently reprinted in a limited quantity just in time for the Golden 50th Anniversary celebration of Bowhunter Magazine. As longtime fans of M. R. James already know, this is a veteran, award winning wordsmith who sold his first short stories and nonfiction feature articles to national magazines while in his late teens and early 20s. He also has worked for daily newspapers in Indiana and Illinois as a sports and city editor, and feature writer. James also has taught basic and advanced writing classes at three different Indiana universities.
The well-illustrated Bowhunting Gospel book is a collection of helpful and time-proven deer hunting techniques that is packed with beneficial information, tips, and no-nonsense advice. Its author is an award-winning journalist and successful deer hunter who arrowed his first whitetail buck in 1963 and published his first deer hunting book in 1978.
Bowhunting Gospel also includes a brief review of modern bowhunting/archery history and traces the evolution of modern equipment, as well as technology's impact on the sport. Whether readers are beginners or experienced deer hunters, and whether their choice is traditional or the latest in 21st century tackle, the book has something of interest and value.
---
Signed paperback copies cost $19.95 each and include postage and handling in the continental United States. For orders outside of the continental United States please contact the author for a custom price quote including shipping and handling to your area. All books are mailed within 5 business days. Checks or money orders are welcome and should be sent to Blue Jay Books, P. O. Box 1, St. Meinrad, IN 47577.
Signed Paperback
Bowhunting Gospel
(Continental U.S.)
$19.95

$19.95 includes postage & handling

Bowhunter Magazine
50TH ANNIVERSARY SPECIAL
(Continental U.S.)
$29.95

Buy 1 copy of either signed book
or 2 copies of the same book and
get 50% off the second copy.


$29.95 includes postage & handling

For orders outside of the continental U.S. please contact the author for a custom price quote including shipping and handling to your area.
NOTE: Bowhunting Gospel is also available from Amazon, Barnes and Noble, and other on-line book outlets.